Friendly Staff. Beautiful Smiles. Welcoming Environment.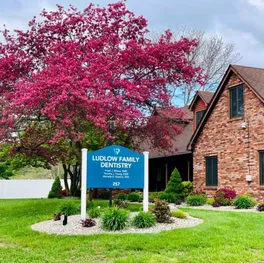 When you're looking for an experienced dentist, you want to find someone who can handle all of your dental care needs.
Over the years, our team at Ludlow Family Dentistry has made sure to stay current with all of the latest methods and procedures that dental technology has to offer, so we can be sure to give you the highest quality and most up-to-date care available. Your first appointment will consist of a thorough oral examination, and then we will schedule you for further treatment in a timely manner. We also provide cosmetic dental care.
We have been providing dental care for patients in the Ludlow area for more than 43 years, and we are an established and trusted part of the community. We work with all major dental insurance plans, and we also provide CareCredit financing if you need it. Because we want to make your experience with us as comfortable and satisfactory as possible, we treat you as family.
When you're in need of a caring, experienced dentist, you'll find a friendly atmosphere and quality care at Ludlow Family Dentistry. We'll do everything that we can to give you a healthy smile! Call us today to discuss your dental care needs.
Take care of your smile by learning All About Preventing Oral Disease.
Why Should You Choose Ludlow Family Dentistry, PC.?
Evening & Saturday appointments available
Serving the Ludlow community for over 43 years
CareCredit financing available
We'll Provide You With That Winning Smile!